CONTINUING EDUCATION LISTINGS
Continuing Education: Waterton, AB
Date of Event: June 5-7, 2020
AAND Annual General Meeting and Conference Update
Registration for the AAND AGM and Conference is now open. If you register for the conference before April 15, we are happy to offer you early bird pricing of $299 for AAND members and $399 for non-members. 
This year's theme is AUTO-IMMUNITY: an epidemic of the 21st century. Click here to find out about the great presentations we have lined up.   
CLICK HERE to go to registration page.
Hotel room bookings can be made at a discounted price of $164/ night (for non-lake view) at The Bayshore Inn Resort and Spa. Act fast as there are only 17 rooms left! To make a reservation call the hotel at 403-859-2211 and indicate that you will be attending the AAND conference. Other hotels in the area are Aspen Village, Waterton Lake Lodge Resort and Waterton Glacier Suites.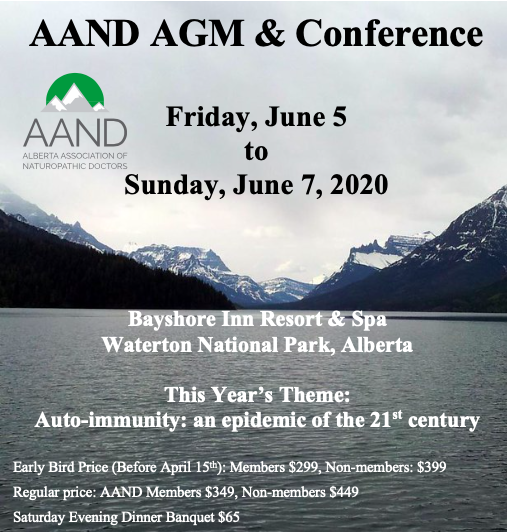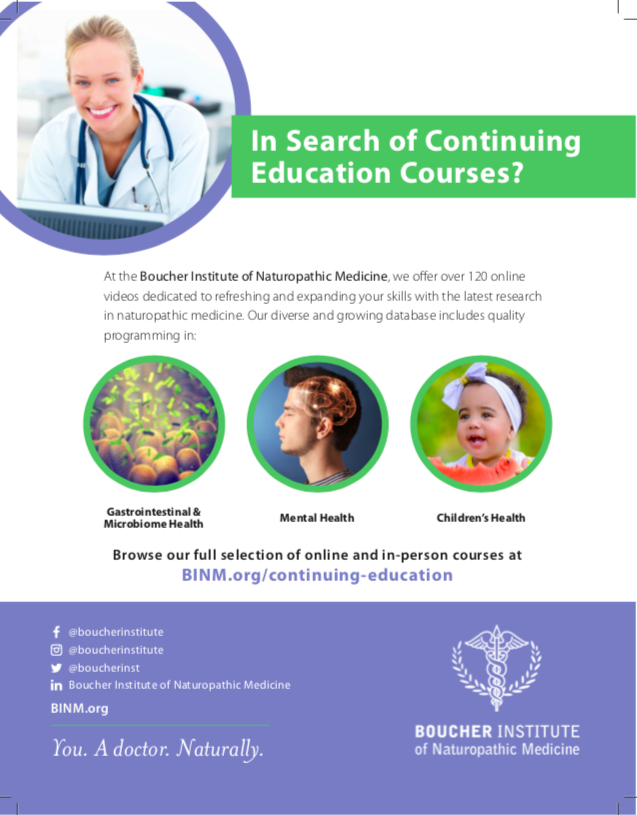 Continuing Education: Calgary, AB
Date of Course: April 5, 2020  & Oct 25, 2020
EMERGENCY REFRESHER FOR THE NON-IV NATUROPATHIC PRACTICE
As required by the CNDA, Naturopathic Doctors practicing Restricted Activities must complete an Emergency Refresher course every four years. If you are practicing Restricted Activities that are not IV related, this Emergency Refresher course is a good option for you! Developed and presented by Dr. Patti Yik ND, this CNDA-approved course will cover the relevant material in a hands-on, practical and engaging four-hour workshop.
Course Objectives
Identify and critically assess potential emergency situations that may arise in a Naturopathic practice.
Become knowledgeable and comfortable with implementing proper responses to potential emergency situations that may arise in a Naturopathic practice.
Identify, assess and implement proper responses to emergency situations that may arise specifically to the practice of Acupuncture, Naturopathic Injections and Manipulation.
Course Instructor Bio
Dr. Patti Yik is a practicing Naturopathic Doctor and clinic owner in Calgary, Alberta. She graduated from the Canadian College of Naturopathic Medicine in 2006 and started Vive Integrative Health Group, a Naturopathic-focused clinic in 2010 with her husband Dr. Colin Race. She has been teaching this course since 2016.
2020 Dates Options
Sunday, April 5th (9:00AM-1:00PM)
Sunday, October 25th (9:00AM-1:00PM)
Location
Vive Integrative Health Group – 1889 45th Street NW, Calgary, AB
Cost: $295 + GST
To Register: Email drpatti@vivehealth.ca for the Registration Form. 
PRACTICE OPPORTUNITIES & JOB POSTINGS
Job Posting: Alberta Territory Manager
Date Posted: March 2020
For more details, CLICK HERE to see full job posting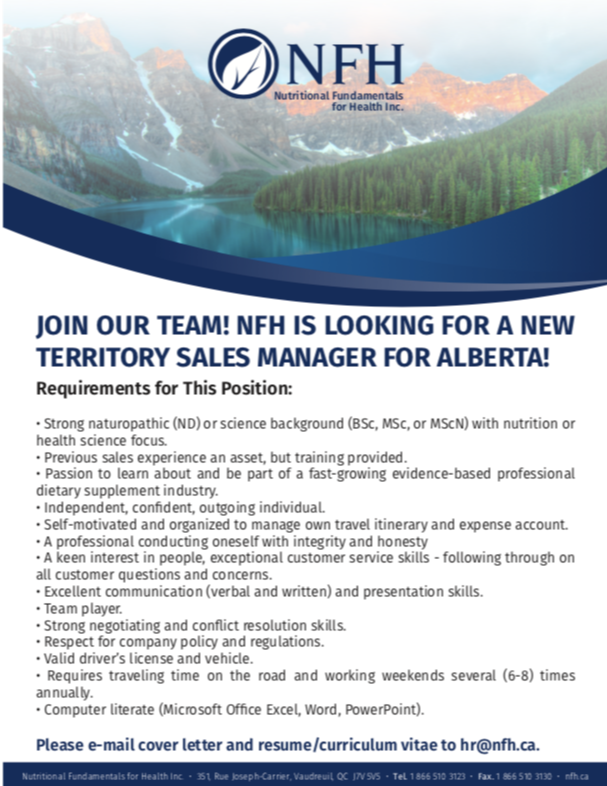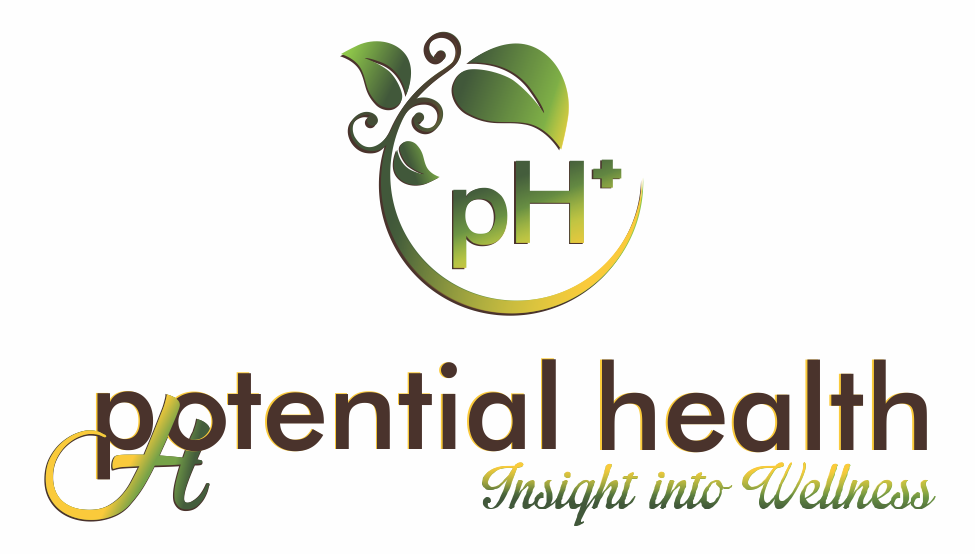 Practice Opportunity: Vermillion, AB
Date of Listing: March 2020
Excellent and fantastic opportunity for an enthusiastic and motivated N.D. in Vermilion, Alberta
If living in the rural, quiet community, appeals to you, this may be your opportunity of a lifetime.  I am asking for a passionate ND who takes the holistic approach to wellness and empowers clients, to join my busy practice, with the possibility of eventually taking over the business.
I have a beautiful, spacious, fully furnished, functional 1800+ sq ft space.  Including functional lab, admins support, fully stocked dispensary and retail, plenty of parking.  I serve clients from all surrounding towns in a 200 km radius.
New grads and current ND's welcome. Interested ND's can email me at photentialhealth@gmail.com for more info.

Practice Opportunity: Calgary
Date of Listing: February 2020
Position: Full time ND to share office space
Address: 
Rockyview Health Centre
Suite 308 1011 Glenmore Trail SW
Suite 308 
T2V 4R6 Calgary, AB
403-454-0255
Estabished naturopathic doctor is opening a new clinic in central area of Calgary, Alberta. I would love to share office space with a colleague that has similar practice style but also complements and completes the services that are currently offered. Ideally, strong skills in IVs and injection therapies would be an asset with an interest in broadening these skills to include chelation, ozone, prolotherapy and/or neural therapy.
Generous and negotiable compensation plan, length of contract and start date. Clinic opens March 2020
Please contact Dr. Christine Perkins ND at 403.681.9733 or drchristine@radianthealth.ca.

Practice Opportunity: Calgary
Date of Listing: September 2019
PART-TIME & FULL-TIME NATUROPATHS NEEDED
Essence Wellness Clinic is opening a third location in Willow Park Village (SE) this November and is looking for part-time and full-time Naturopathic Doctors to join the team. We are also hiring part-time NDs for our Marda Loop and Sage Hill locations and pre-hiring for our Mahogany location for 2020. We offer Naturopathic Medicine, Massage, Acupuncture and Natural Esthetics at our clinic. Please see below for details.

We require ALL our Essence NDs to have the following Restricted Activities:
IM Injections

Acupuncture

IV therapy (IV Therapy is a huge component of our business. If you don't currently do IV, we need you to agree to taking the next available IV course subsidized at 50% by the clinic)

Mesotherapy (Mesotherapy/Natural Esthetics is our second highest grossing service at our clinic. If you don't currently do Mesotherapy, we need you to agree to taking the next available Mesotherapy course subsidized at 50% by the clinic)
Why work with us?
We provide excellent service to patients including DIRECT BILLING and MVA BILLING, we are open 7 DAYS A WEEK and have ONLINE BOOKING for convenience.

We have great clinic hours (Monday-Friday 9AM-9PM, Saturday & Sunday: 9AM-6PM) to help book more patients in for you! See multiple patients in multiple rooms and IV chairs.

We offer staff discounts when you need to see other practitioners for treatments.

We subsidize 50% of your continuing education courses (such as IV therapy andmesotherapy courses)

We cover all supplies (including needles, solutions, equipment, etc). You just need to come in and see patients

We directly deposit your pay bi-monthly right into your bank account.

We have a great marketing budget and marketing strategies that help keep your schedules full at all times. This includes trade shows, festivals, corporate talks, advertising in community newsletters, making professional clinic videos and 3D tours.

We have a very strong work culture; lots of team building events and gatherings such as bowling, axe throwing, locked room, lake day and Christmas parties to make work fun!

Go to http://essencewellness.ca/join-our-team for more details about joining our team.

Please submit your resume to HR@EssenceWellness.ca or contact Dr. Trudy Toews at (403) 891-1932 directly to set up a meeting. Thank you and we hope to hear from you soon.


Practice Opportunity: Edmonton
Date of Listing: December 2019
Come join a successful clinic focused on helping patients in the evolving health conscious market. True Nature Health Clinic is in Central Edmonton, close to the downtown area with easy arterial access to the rest of the city.
We are looking for someone who is passionate about any, or all, of these areas: Sports medicine, Chronic pain, Genetics, Chronic Neurological Issues, Men's Health and IV therapy. Newer NDs that are excited to start and driven to grow a successful practice are also encouraged to apply. The clinic currently has a Full-time ND with a general family practice, who does Bowen and injection therapies and a part time ND focused on Fertility, Pregnancy, pre and post natal health and Pediatrics. The ideal candidate must be (but not limited to): ‐ Self‐motivated and possess a strong work ethic along with a professional demeanor, appearance and teamwork-oriented ‐ Able to multitask and work with accuracy and efficiency while maintaining an upbeat, friendly, positive attitude ‐ Driven to build and maintain your practice. Benefits include fantastic full-time reception, promotion through the website, access to full dispensary, free parking, a fully furnished room with windows just needing your finishing touches, in a beautiful, newly, renovated clinic. Start date is immediate.
Please contact us for more information at 780-944-2780 or email reception@truenaturehealth.ca